WINE & DINE
A concept that's perfect for business gatherings, combining wine tasting with food pairing in the welcoming setting of the Auberge de l'Onde.
As maître d'hôtel and sommelier, Jérôme Aké Béda hosts the event, leading the tasting of three regional wines in the Caveau. A food-and-wine pairing meal follows at the restaurant.
When: Please contact us for availabilities (lunch or dinner).
For whom: Groups of 10 to 40 people.
Price: CHF 180.- per person, including the apero, a three-course meal, wines and mineral water.
Private events, weddings & seminars
Whether it's your big day, birthday, or any other celebration, the Auberge de l'Onde guarantees you a unique event. Wine-growing plays an essential role in the majestic vineyards of Lavaux, which the renowned sommelier Jérôme Aké Béda showcases brilliantly with an exceptional selection of vintages. Not to be outdone, the cuisine of chef Alexandre Noireaux earns 15/20 from Gault&Millau. The creativity and authenticity of his cuisine is enhanced by an undeniable advantage: a magnificent fireplace, equipped with trammel hooks for use as a rotisserie.
Seating capacities:
Salon Chaplin 25 people at individual tables or 18 people around a "royal" table.
Salon Marcel Imsand: 10 people around a "royal" table.
The Rotisserie: 60 people. Can be booked for a private party of at least 30 people.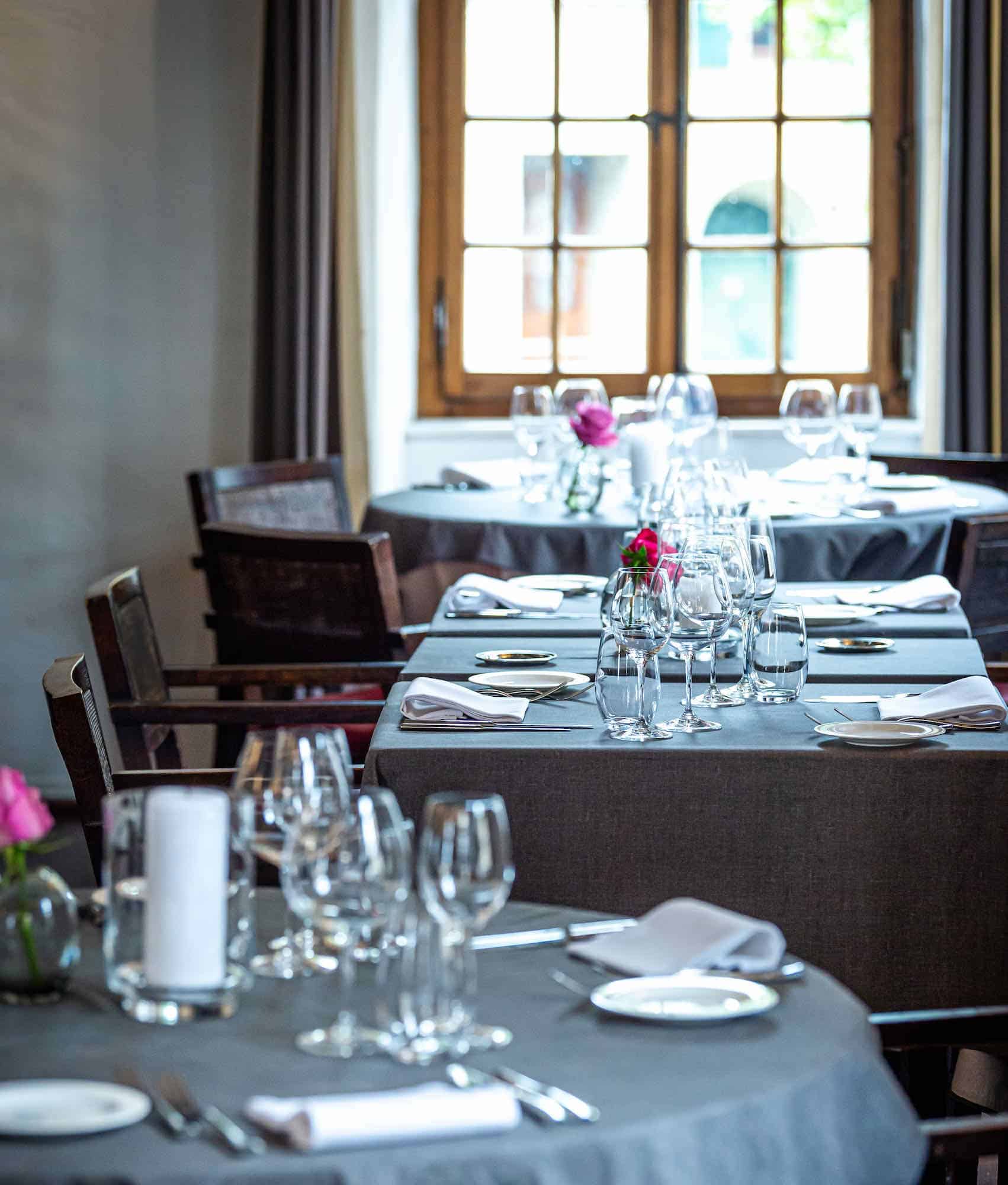 The Chef is at your disposal to customize your seasonal menu
A complete experience
Are you looking for a sizeable, welcoming, flexible space to bring family and friends together for an anniversary, family reunion or other unique event? Beyond a restaurant or a simple hotel room, you can choose from a range of dedicated spaces, such as the large Rotisserie room, the basement Caveau, and a number of different salons. The terrace can also be used for drinks when the weather allows it.
A unique experience that's tailored to everyone: children – accompanied by a babysitter if necessary – can enjoy a dedicated meal and then enjoy the play-space, while teenagers can, if they wish, spend time with other young people in a separate room. The adults in the group will appreciate some quiet time to enjoy the excellent meal created by our chef, as well as a high attention to detail that our renowned sommelier Jérôme Aké Béda will dedicate to choosing wines that pair beautifully with the food.
And you can't have a party without music! Our basement room – creating a lounge-bar atmosphere – can be transformed into a dance floor so that you can spend the rest of the evening together, until the early hours if you wish. Simply bring your playlists on your smartphone and connect it to our audio system.
The whole team at the Auberge de l'Onde is dedicated to making your event something truly special in a magical place that guests of every age will adore.
Maximum capacity: 60 adults, 20 teenagers, 10 children